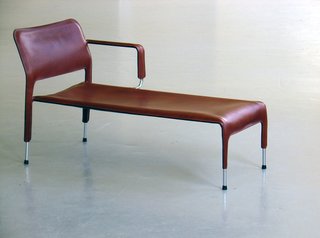 In 2003 KOMPLOT Design together with Tärnsjö Sadelmakeriskolan (Saddle maker school) took an initiative to start a project, which aim is to draw attention to on of the oldest crafts that still exist in Scandinavia, in spite the massive transfer of production out of Western Europe. And this craft is not "just surviving", but new craftsmen are being educated and raw materials of highest quality are being produced for them - only demand is missing.
Sadelmakeriskolan is the only one school in the whole Scandinavia (incl. Finland and Island), which fights a brave fight to keep alive an ancient trade of treatment, processing and sewing leather (up to 6 mm thickness).

We believe that to avoid it becoming a narrow "museum" handicraft it is necessary to attract attention to enormous possibilities of use of crafts by marrying them with modern design.

The aim of the project is to show that it is possible to combine in one product the old handicraft with the modern expression and industrial technology - in other words to combine the old values with the new. To serve this purpose we have designed some objects, where the real "art" of harness meets the modern design, modern forms and modern constructions.

The project became possible thanks to the great support from Källemo AB (Sweden), Gubi A/S (Denmark) and Tärnsjö Garveri AB (Sweden).
all Exhibitions & One-offs: