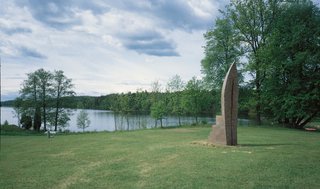 "Apostol" is a sculptural portrait of the Holy See.

The Danish fonema of the title is: [Ap] - up; [O] - and; [Stol] - chair.


Produced by Boris Berlin with Brödrerna Wallin AB, Älmhult, Sweden
for the exhibition in "Stenrikket".

Acquired by Värnamo municipality and mounted at the drive way to the museum "Vandalorum". 

all Exhibitions & One-offs: